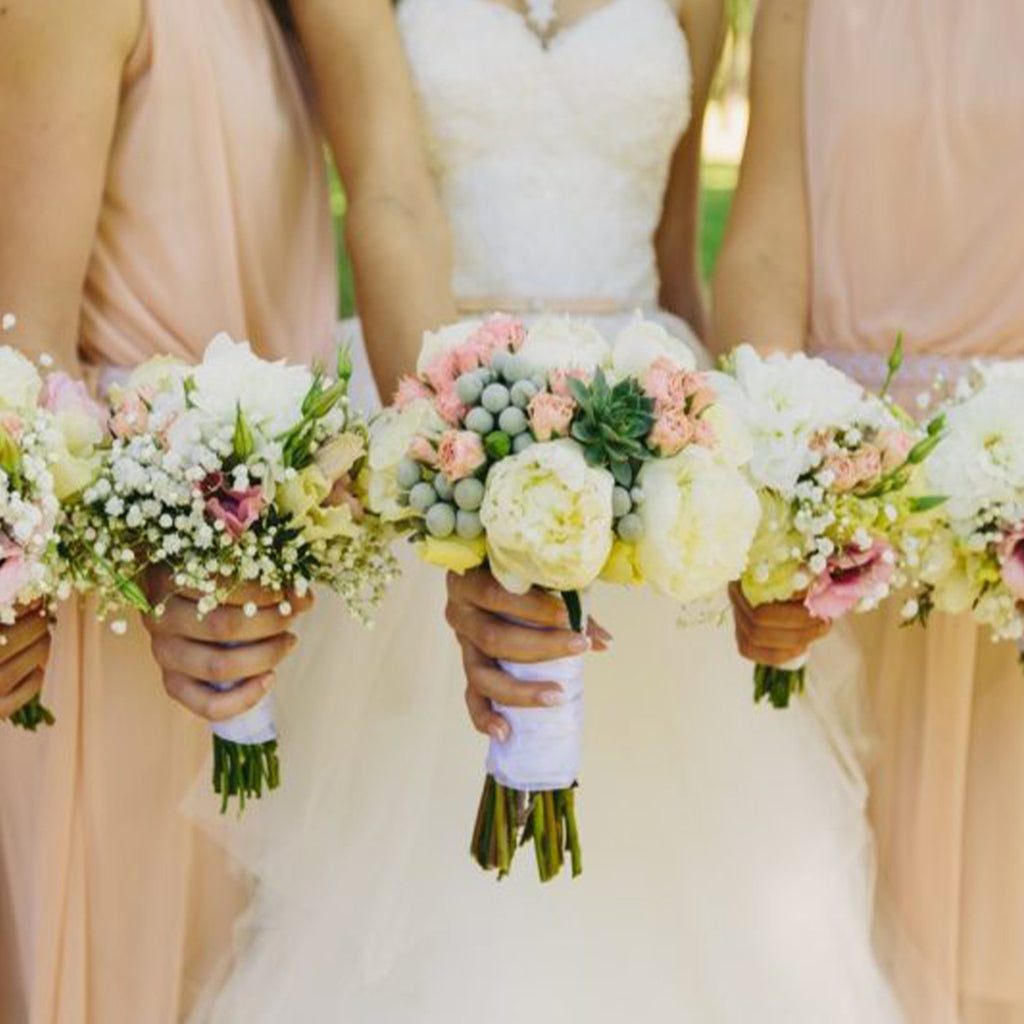 If you are a bride-to-be, you probably have a busy schedule for the next couple of months. From dress fittings to the reception seating chart to your honeymoon itinerary, everything falls under your supervision. If you're having a bridal party, you can count on them to help you and ease the load of responsibilities that only planning a wedding can create.
To show your friends and family members how much you love and appreciate their support, you want to remember a gift for each member of your bridal party. Bridal party gifts don't have to be over-the-top. They can simply be a small token of gratitude. Besides gifting unique bridesmaid jewelry that they can wear daily is a thoughtful manner to say thank you. 
Jewelry is also a way to accessorize your bridesmaids for your wedding day. Pearl necklaces, stackable rings, jewelry sets in sterling silver or gold are fail-safe ornaments almost every bridesmaid would like. Personalized pieces like pendant necklaces and signet rings are classic and versatile pieces. You can personalize them with your crew's initials, for example.
If you love the idea of presenting your bridesmaids with a jewelry gift, in this article we compiled some ideas and inspirations with unique jewelry items for your wedding crew. We hope you enjoy it! 
Choose The Perfect Bridesmaid Necklace
If you are planning to present your bridal party with an accessory that will complement their looks on your special day, a  good rule to follow is to match metal colors to your bridesmaid dress colors.
For example, gold jewelry, like HLcollection tiny gold initial necklace, would look stunning with a pink dress, whereas sterling silver jewelry would pop against a yellow or blue dress. This sterling silver pearl necklace will surely catch anyone's attention.
If you are looking for more neutral looks, a simple pendant brings a more cohesive look. A great option for an elegant yet natural piece is our Tiny Diamond Gold Necklace. 
A classic: Pearl Bridesmaid Jewelry  
Timeless and elegant, pearls are sophisticated options, no matter the bridesmaid's style. They are one of the best jewelry gifts options for your bridal crew as they not only elevate any look but also make a great staple addition to any wardrobe.
HLcollection Gold Pearl Huggie Hoop Earrings are the perfect combination for a sleek and statement-making outfit. 
If you want traditional with a bit of a modern edge, this 14k gold-filled Cuff Bangle Bracelet is a stunning take on classic pearl jewelry.
More Bridesmaids Jewelry Ideas
A delightful way to complete your bridesmaids' wedding day look is to bet on personalized jewelry. An engraved bracelet, like HLcollection Custom Letter Beads Gold one, makes a beautiful personalized bridesmaid gift. Your besties are definitely going to cherish it forever. 
You can also inscribe their initials on an engraved ring or necklace that complements their bridesmaid dresses perfectly and create bridesmaids' jewelry sets. Try to combine earrings, necklaces, and bracelets to create an incredible look. A great options that are also an affordable bridesmaid gifts you can find in HLcollection Personalized.
But mostly, remember: They will always cherish your special day with the unique jewelry you thank them with no matter what.
Your bridal party understands the importance of your wedding day and is there for your 100%.
After all, that's what friendship is all about.